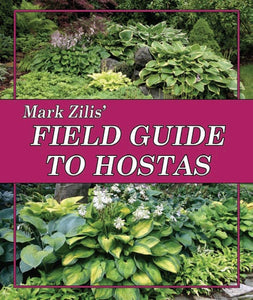 Mark Zilis' Field Guide to Hostas
Regular price
$44.00
$0.00
Unit price
per
by Mark Zilis 

2014
Choose your shipping option below.
Ask and you shall receive! Mark Zilis' original Hosta Handbook was published in 2000 and many gardeners have wished for an updated version. The Hostapedia is a must-have for any serious hosta lover, but let's be realistic...it is overkill for casual hosta collectors and much too heavy to carry around the garden!
Mark Zilis' Field Guide to Hostas is a totally revised and expanded version of the immensely popular Hosta Handbook.
Inside the Field Guide to Hostas you will find:
428 pages
272 hostas completely described, including the latest introductions, ones that are commonly seen, significant species, important breeding plants, and hostas with extensive sport families.
2300 more hostas listed or described in lists of similar types, hosta sports, sport families and seedlings.
1200 photos including ones of each main listing, sports, seedlings, hostas in the wild, companion plants, several problems, and more.
New views of hosta species with an examination of natural habitats and other plants associated with them in the wild and how all this relates to growing hostas in our gardens.
An Appendix comprised of charts that rate the compatibility of trees, shrubs, and vines with hostas in shade gardens, recommended companion plants for hostas, starter collections, and a list of patented hostas.
A thorough analysis of how to grow hostas, including a greatly expanded "Hosta Problem Solving Guide" detailing the characteristics, symptoms, prevention, control, and general discussion of each problem.
Updated discussion of hosta propagation, including a detailed look at tissue culture, mutation selection, and polyploid (tetraploid) formation.
A list of hosta facts and anomalies.
This laminated soft cover ring bound book measures 7 1/2" by 8 7/8".
ISBN # 978-0-9679440-2-9 .
Because of the size and weight of this book, it can not be shipped with other items and a separate shipping charge applies. Please select your shipping preference below. Additional shipping charges will apply to books shipped outside of the United States.
---
Share this Product
---