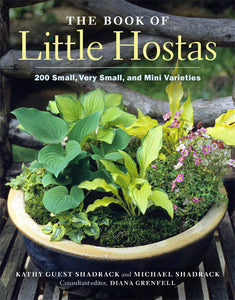 The Book of Little Hostas
Regular price
$27.00
$0.00
Unit price
per
By Kathy Guest Shadrack and Michael Shadrack
Consulting editor Diana Grenfell
2010
Choose your shipping option above.
Small and miniature hostas have never been more popular and now there is finally a guide dedicated to these tiny jewels of the hosta world!
Whether you are already a fan of little hostas or are just getting started, The Book of Little Hostas: 200 Small, Very Small, and Mini Varieties will offer sound cultural advice and an informative overview of 200 of the newest, most desirable small and mini hostas. In addition, Mike's stunning photos will inspire you with creative ideas on how to combine and display your collection of little hostas. The Book of Little Hostas will be treasured by hosta enthusiasts and garden-lovers, alike.
---
TABLE OF CONTENTS

Preface
Why write a book devoted to small hostas

Chapter One – A Brief Introduction to Hostas
Some background on hostas in general as a popular garden plant, and the introduction of small hostas to the marketplace

Chapter Two – It's a Small World After All
Definitions of small, very small and miniature hostas, the species from which they have arisen and the trend towards small plants

Chapter Three – How to Grow and Care For Your Little Hostas
A review of good cultural practice for small hostas, including planting, growing mixes, fertilizing, how to plant and divide, winter care, pests and diseases

Chapter Four – Creating a Place for Little Hostas
Some planting scenarios including siting, woodland gardens, woodland walks, planting in hollowed logs, edging, rockeries and scree gardens, hostas and water, container gardening, fairy gardens

Chapter Five – Keeping Your Hostas Company
Ideas for companion planting

Chapter Six – Collecting Hostas – Hosta Dynasties
A review of several collections of small hostas with extensive sporting families

Acknowledgments

Sources

Where to See Small Hostas

Further Reading

Index
---
Detailed information on 200 small and mini hostas.
208 pages
258 color photos
This hardcover book measures 7 inches x 9 inches.
ISBN-10: 1604690607
ISBN-13: 9781604690606
To ensure safe delivery of this book, it can not be shipped with other items and a separate shipping charge applies. Please select your shipping preference below. Additional shipping charges will apply to books shipped outside of the United States.
---
Share this Product
---